Isopad "LeakGuard" Water Leak detection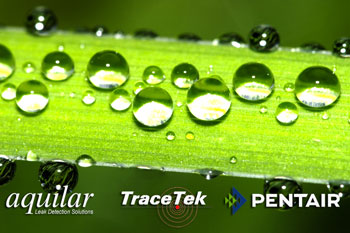 "Our new name signals the start of a bright future for both our business and our customers' businesses" states Christian. P . Vermeulen, VP, Managing Director EMEA-India, Pentair Thermal Management.
The transition from Tyco Thermal Controls to Pentair Thermal Management creates a significant advantage for the business which is already a world leader in electrical, heat-tracing solutions in industrial, commercial, residential and infrastructure markets.
Pentair Thermal Management becomes part of Pentair Ltd bringing its expertise and reputation in heat tracing, floor heating, snow melting and de-icing, temperature measurement and fire-rated speciality wiring and leak detection to a global market.
This exciting opportunity ensures Tyco's prominence as an innovative world leader will be brought to a wider range of applications and industries as Lasse Alsterberg, European General Manager, BIS for Thermal Management explains, "Our Building Infrastructure Solutions business will continue to offer robust, innovative winter safety and comfort heating solutions for commercial, public and residential buildings under a range of trusted brands, including the company's flagship brand, Raychem. In addition customers will still be enjoying the best in customer service, including comprehensive product warranties, technical assistance and training modules."
Indeed customers used to the quality and reliability of TraceTek leak detection products will be pleased to note that everything remains unchanged in respect of the manufacturing facilities, staff and sales channels with UK distribution continuing to be operated by Aquilar Ltd.
This strategic and powerful alliance also outlines the companies commitment to ongoing product development and, as Vermeulean states, "will establish us as the world's leading source for all heat-tracing applications in all markets".