Sonic from Aquilar Ltd – the smartest ultrasonic water leak detection shut-off and protection system ever created
Aquilar Ltd is proud to become the authorised UK & Ireland distributor for the award-winning Sonic – the smartest ultrasonic water leak detection shut-off and protection system ever created.
The detection and shut-off of leaks is an increasingly common requirement in building specifications – especially in the multi-dwelling market. The award-winning Sonic leak detector is a perfect solution for this need. If you are a developer, contractor, specifier or public health engineer Aquilar would be delighted to help you explore the use of Sonic for your projects.
Julian Waumsley, Managing Director of Aquilar, commented "Hero Labs, who developed SONIC, is a fast-growing start-up focussed on the world of water. Sonic, the smart leak-detection shut-off device uses ultrasonic technology and machine learning to detect and identify leaks and water usage. It can identify very low flows and automatically shut-off the supply when damage is likely to occur, immediately alerting homeowners and building managers."
Pipe leaks are a very real problem with over £657 million worth of domestic insurance claims made every year to repair and replace property damaged by water leaks.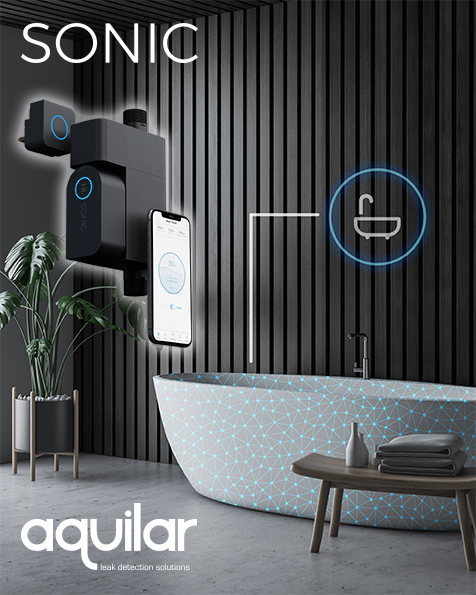 Class-leading HD resolution allows Sonic to protect your home/business from the smallest undiscovered drip to a catastrophic burst pipe. Water leaks cause more damage to UK property than any other factor – more than all house fires, explosions and burglaries combined. (ABl figures)
Sonic detects leaks anywhere in the home and shuts-off the water supply fast – with cutting-edge SmartShield technology that scans plumbing for problems up to 100,000 times a day, protecting property as well as helping to save water and money. In the event of an issue, Sonic will send an alert to users of its mobile app and property dashboard, whilst automatically shutting-off the water supply in seconds to prevent a water leak.
The WRAS-approved valve can be controlled from the app at any time with full manual override or you can let Sonic respond to potential problems with smart actions that can be customised to suit individual lifestyles. Sonic is the only product in the UK to apply ultrasonic technology to monitor the water used, detecting any anomalies using its AI platform.
The dedicated Sonic app also monitors how much water is being used at each point in the home. Sonic's machine-learning engine recognises the different applications through their unique 'signature' helping users to understand water usage in order to manage overall consumption.
The fitting process is straightforward and, in most cases, installation can be completed under the sink. The compact, rugged form-factor fits easily into tight spaces to make installation simple.
Sonic can be powered from batteries or with a connection to the mains meaning no complicated wiring.