What it means for you
Do you have a leak detection system installed?
Who needs to install a system?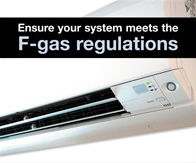 On the 4 July 2006 The European Union's F-gas Regulation No 842/2006 became law and for the majority of measures took effect from 4 July 2007.
The regulation aims to contain, prevent and thereby reduce emissions of the fluorinated greenhouse gases (F-gases) covered by the Kyoto Protocol.
This sheet gives a brief summary of its requirements for the UK's Refrigeration, Air Conditioning, Heat-pump and Fire Protection Industry, which come into effect on 4 July 2007. (F-gases include all HFC refrigerants, such as R134a, R407C, R32 and R410A.)
Leak detection is an import part of this regulation. The tables below give the specific regulatory requirements when a CFC, HCFC, freon (refrigerant / air conditioning / heat-pump gas) leak detection system is required.
The objective of the F-Gas Regulation is to prevent leakage and to ensure repairs are undertaken as soon as possible after a leak is detected.
The information contained on these pages provide details and links to the range of AquiTron f-gas leak detection systems essential for the compliance with this regulation.