TraceTek sensing cables can quickly detect concealed fuel leaks
CASE STUDY: Crude Oil Storage Tanks at refinery in France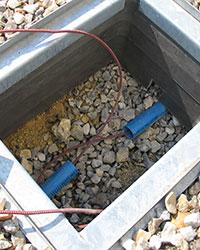 THE RISK
Undetected leaks beneath oil storage tanks pose a major threat to operational safety at oil storage facilities and have the potential for disaster. A refinery in France sought a system capable of quickly detecting hidden leaks beneath its four crude oil tanks.
THE SOLUTION
Tyco Thermal Controls was able to provide the solution with its TraceTek TT5000 Oil and Fuel Sensing Cable. This specialist sensing cable quickly detects the presence of liquid hydrocarbon fuels at any point along its length, without reacting to the presence of water.
The sensing cable is connected to a TraceTek Sensor Interface Module that provides a continuous ability to detect and pinpoint any oil leak. Early detection allows a response team to react before the situation becomes critical.
THE APPLICATION
Each of the four crude oil storage tanks at the refinery now has TraceTek TT5000 cable buried beneath its perimeter constantly ready to alert the operators to any fuel leakage.