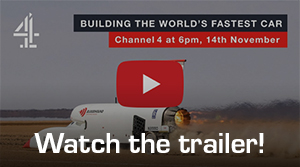 Aquilar are proud that its liquid leak detection system was installed within Bloodhound LSR for high speed testing in Hakskeen Pan in South Africa during October 2019.
There will be a prime-time documentary detailing Bloodhound's successful 628mph (1010km/h) High Speed Testing campaign scheduled to air on Channel 4 at 6pm on Saturday 14th November.
Building The World's Fastest Car, the hour-long programme follows the team's fortunes as they deployed to the Kalahari Desert in South Africa for six weeks in autumn 2019.
Filmed on the Hakskeenpan desert, the programme charts the highs and lows as the team attempts to run the car on the desert racetrack, building speeds, and learning about the destructive impact of supersonic airflow, ahead of a concerted attempt to break the World Land Speed Record.
For those that are interested, a small batch of limited-edition High Speed Testing liveried model cars are also available in the Bloodhound official merchandise store online. Click here to find out more
#bloodhound #technology #sponsorship #testing #system #team #october #southafrica #highspeed #leakdetection #liquid #installed