How to help prevent water damage and preventing leaks in flats
Escape of water is a particular problem in blocks of flats, accounting for up to 50% of the annual total claims reported each year by leaseholders. On the following pages we look in detail at the issues surrounding water damage and talk to two companies that specialise in leak detection.
According to the Association of British Insurers, escape of water resulted in £860 million in claims pay-outs in 2011 and 2012. This is a particular issue for flat owners because not only their property but their neighbours' flats can be badly damaged by leaking water; and it is easy for water to soak into the structural components of blocks, potentially causing hidden problems that may only be discovered months or even years later. Where water damage claims are common across particular blocks, insurers will commonly apply increased excesses/deductibles, higher premiums or may even withdraw cover altogether.
Perhaps surprisingly, the number of claims made for damage caused by escape of water is higher in newer properties (pro-rata). A block of flats built after 1990 is nearly twice as likely as an older property to report this type of damage, according to flat insurer Deacon's analysis of claims. So what can flat owners do to minimise the risks and keep insurance at affordable levels?
Deacon director Nigel Feast says: "Regular maintenance checks are a good idea. You'd be amazed how quickly a small drip or pinhole in a hose can turn into a four-figure claim to repair a kitchen and the ceiling of the flat below. Yes, the insurance may cover it, but that won't prevent the distress or disruption that inevitably follows water damage within a home. And, if there are repeated incidences, you will find that either premiums or excesses will be increased". Like other brokers, Deacon's ability to minimise penalties from insurers on behalf of clients is limited. "While we do our best, our ability to do this is limited if the same building continues to suffer this kind of damage." Nigel explains. His advice is to make sure your building is checked regularly to help prevent water-related accidents occurring (see our checklist on page 37 for more on how to prevent leaks).
To look in detail at the problems caused for flat owners by leaks and to consider the insurance industry's response to these issues Flat Living has set up a water damage forum in collaboration with two leading insurance brokers – Residentsline and Midway. The first forum was held in May and was attended by a range of property experts including representatives from the insurance sector as well as block managers and those working in companies specializing in leak detection and prevention.
Key findings from the forum included:
Insurers believe the problem is worsening; plastic plumbing and timber frame construction are considered to be an issue but this needs further investigation
What can be done about unaffordable premiums? The Council of Mortgage Lenders will only accept a maximum of £1000 excess. Once charges go over this sum, flats become unsaleable and start to lose market value
Who should be responsible for paying the excess – flat owners or policy holders? Leases are frequently silent on the question of whether or not an insurance excess can be added to the service charge
The alternative is for flat owners to have a leak protection system installed, which will not only reduce the risk of water damage but could bring down insurance premiums. If this is the case, why don't developers install these systems in new blocks and why don't flat buyers ask about them at the point of purchase?
Insulation and fire protection are requirements in new blocks under the Building regulations. Why is this protection not extended to water systems?
The conclusion drawn by those attending the forum is that action is needed to better inform existing flat owners about the leak protection products available on the market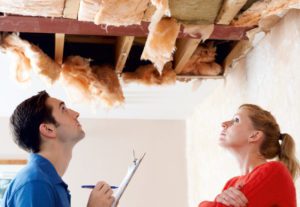 Longer term, should the insurance industry insist they would only insure new builds with timber frames and plastic plumbing if they had leak protection installed, it would force developers to sit up and take notice.
Arriving home after a long weekend to find a puddle of water in your single level bungalow is a nuisance. Arriving home at your flat on the fifteenth floor to find a leak is a potential calamity. In the best case scenario, you get out the mop and clean up, hopefully without suffering too much damage to your ceilings or floors. The worst case scenario is that water will have found its way through walls and floors from somewhere above. The source may be only one floor above, but water may be coming from several levels above its point of discovery. Ceilings, walls, flooring and furnishings all along the leak path may require repairs. There may be hidden damp spaces leading to mould and mildew and necessitating disruptive, time consuming repairs and restoration. Water damage has been known to cost well in excess of £200,000 (Source: Zurich Insurance) to put right. Liability disputes between leaseholders and the management company are a possibility and increases in insurance premiums are likely.
Let's be clear, water leaks are not an everyday occurrence. The average home owner may go years between the leaking water heater and a broken water pipe. Single family home owners often accept the risk and consequences of the occasional leak. But for anyone living in a high rise residence, the 'occasional leak' for the individual flat expands proportionately to the number of flats in the stack. The problem is particularly acute in blocks where owners are absent for months at a time. Leaks may not be discovered until they reach an occupied level and the cost of repairs will be much higher.
Potential water sources are plentiful: sinks; drains; toilets; baths and showers; hot water heaters; dishwashers; washing machines; chilled water dispensers; wet bars; poorly maintained roofs and windows; drip irrigation systems for roof or balcony plantings; and hot and chilled water circulation for air conditioning can all cause problems. Mechanical systems are not infallible. Vibrations can loosen fittings; plastic parts can become brittle and metal parts may corrode. Structural seals crack and fail. Sooner or later something will leak.
Early detection
The key to damage prevention is early and accurate detection and there are two basic leak detection strategies:
Identifying excessive water flow; and
Detecting the physical presence of water where it should not be
The response is twofold: Isolate the water supply if possible and notify a person who can initiate repairs.
Excess flow detection can be achieved simply and effectively by using a home water monitor. This is an electronic device that automatically shuts off the water supply if the water flow continues beyond a pre-set period. The monitor is set so the owner has time to fill a bath or take a shower, but if water continues to flow beyond the time limit, a solenoid valve is triggered to isolate the water supply. The timer automatically resets whenever the flow drops to zero of its own accord.
What's the cost?
The cost is around £300 for a monitor to fit a typical 15mm home water pipe, complete with controller and isolating valve plus about £100/£140 for installation. While it is possible to retrofit these devices, the installation costs are somewhat lower when plumbing is exposed during construction.
What are the limitations?
Planning where to install isolation valves and determining who has override permission may be problematic. Also consider that some devices like dishwashers and washing machines have their own timers which periodically shut of internal water flow and thereby reset the Home Water Monitor. Flow monitoring devices only work for supply lines. Drain and structural leaks are not detected.
What's this water doing here?
To detect the presence of water in a place that should be dry, a variety of water sensor cables and point detectors (probes) are readily available on the commercial market. Sensor cable works by detecting a puddle of water anywhere along its length and the more sophisticated systems will report the leak location as well. Cable can be used to trace along a pipe or surround a potential source of leakage. Point detectors are useful to monitor individual devices like a dishwasher, or within inaccessible areas such as behind a refrigerator. As with flow monitoring devices, sensor cables typically activate a solenoid isolation valve if water is detected and may also include an audible alarm.
Water leak detection systems using sensing cables or point detectors are most commonly used within large or higher value properties and are typically installed during the construction or refurbishment stage. An alarm panel is at the heart of the system, monitoring the water sensing point detectors or sensing cables positioned under, or adjacent to, any pipes or mechanical plant using water within the apartment.
Once a leak has been detected, the panel will sound an alarm to alert the resident. Relays in the panel can also be linked to the building maintenance team or concierge should the apartment be unoccupied. The panel will indicate the room name or zone number where the leak has been detected. This directs the plumber or maintenance team to the source of the problem. The probes and sensing cables dry within seconds, allowing the system to be reset once the area has been cleaned.
What's the cost?
Systems can be designed ranging in size from a simple, single point detector and panel for £220 to multi-floor, building-wide, complex digital systems. A flat with about six point detectors, several metres of sensor cable and a control panel will cost between £300 and £700. Retrofit is possible, but wiring costs from the various detection points to a central alarm panel may add significantly to the installed cost. Prewiring during new construction is less costly. Wireless communication to the central panel is an emerging trend, with a new product from Aquilar anticipated shortly.
What are the limitations?
Sensor placement is key. If point detectors are used and the leak 'misses' the detector, then early notification is lost. Sensing cables and probes will detect the smallest amount of water, however their position is very important and systems must be designed by a specialist. Where a company such as Aquilar is consulted, a detailed design will give residents a range of options to optimize detection:
Multiple rooms can be connected on one system
Separate panels are available for each apartment
Central networked systems are available to cover whole buildings
Systems can be connected to remote alarm systems for SMS or email alerts or to shut off the water supply
Sounding the alarm
Whenever a leak is detected or an isolation valve is triggered, the building maintenance engineer must be notified. In buildings with Building Management Systems, a simple relay tie-in is sufficient, with the alarm being logged and handled alongside other BMS notifications. In remotely-managed buildings, most water detection systems offer landline dial out, cellular based SMS texting or Wi-Fi connectivity to send alerts to both owners and facility teams.
Early water detection and a quick response is not unlike buying insurance. You as a building manager, owner or individual tenant may be lucky for many years. On the other hand, something as simple as a corroded pipe may lead to hefty repair costs if not detected early and promptly corrected. A small investment in the right equipment now can pay for itself many times over in damage prevented.
The Aquilar solution
The AquiTron AT-HW leak detection system is suitable for most types of home, but is especially suitable for multi-level apartment blocks. The system consists of a simple user friendly wall mounted controller which wirelessly communicates to the low voltage valve drive and isolating solenoid valve and simply installed by a plumber. Ideally, each flat would have a system installed, providing peace of mind that any damage caused by a leak would be minimised because the main cold water supply would be shut off. This also provides a comfort factor for other owners on lower levels.
The benefits of the AquiTron Home System include:
An integrated back-up battery which will continue to power the controller and protect the property for many weeks in the event of loss of mains power
Monitors the continuous flow of water resetting each time the water flow is stopped, for example the user selects the maximum time they wish water to flow before turning off the supply when they are both in and out of the property
These two levels of guard are programmable by the user in order to facilitate individual requirements
The simple to use, language free controller can be located conveniently in the kitchen or utility room wall at eye level
The water can be turned on or off, the guard level switched and the maximum allowable flow times set from the simple to use language free controller
Automatic guard level switching available when wired to the properties intruder alarm
Available for properties from 15mm to 35mm incoming water main.
Further information
Click here to read an article in FlatLiving which previously featured details on the AquiTron system.
For system design recommendations suitable for your property contact Aquilar on 01403 216100 or email [email protected]